Workshops, Performances und firmeninterne Seminare
A performative story-telling evening
with
Jenny Simanowitz - author and performer


Celia Mara - singer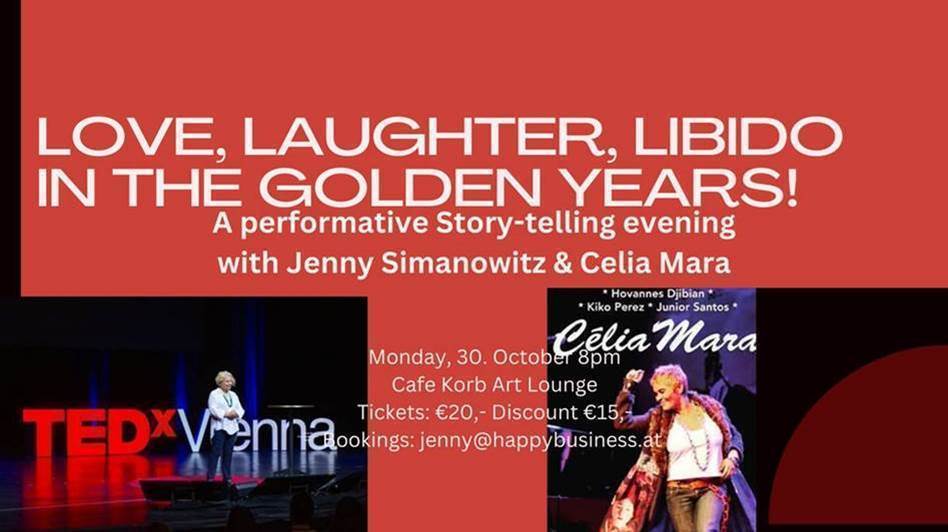 Some months after the death of her life partner, a friend persuades a 72- year- old woman to join a dating site for "some special hours". She uncovers, among other things, her domatrix yearnings, encounters a man whose tragedy is having an oversize phallus, and fights off numerous 35-year-olds who are determined to get her into bed.
The stories, half-read and half-told, unturn myths about sex and age, reveal the sad truth about how many relationships suffer from "bed death" and explore the everyday fantasies, tendencies and "fetishes" that liven up our lives!
...and inbetween the stories… the wonderful, Brazilien singer CELIA MARA!
Datum: Monday, 30 October, 8pm
Ort: Cafe Korb Art Lounge, Brandstätte/Tuchlauben, 1010 Wien
Karten: € 20,- ermäßigt € 15,-
Reservierung: office@happybusiness.at , Tel: 0664-4750055
See the video from her TEDtalk at TEDxVienna 2022!
https://www.youtube.com/watch?v=RC_f5QnZ6Wo
Past performances:

JENNY SIMANOWITZ AT TEDTALKS
8. October 2022
VOLKSTHEATER WIEN
We are living in a silver world. We are getting older and staying active for longer periods of time. Silver society is ✨on the rise✨. As "Wild Granny Jenny" Communication trainer, performer, and upcoming TEDxVienna speaker, Jenny Simanowitz doesn't mince with her words.

Our generation uses social media to confront and challenge our peers. Jenny uses the flexibility of her age in her talk to discuss things that others may find uncomfortable yet are vital to everyone.
Here is the video:
https://www.youtube.com/watch?v=RC_f5QnZ6Wo
Facebook
https://www.facebook.com/140201126028564/posts/pfbid028ckMzuZg34CaPsyJoyKdP5Us94WHtCMCUhcya7dW5D4NBChjzihacWHtRgaDD9Xpl?sfns=mo

Instagram
https://www.instagram.com/p/Cgco8-0MiBm/?utm_source=ig_web_copy_link
PERFORMANCE COACHING
In den folgenden Modulen werden unsere täglichen Performances analysiert, reflektiert und vertieft..
Termine und Preise auf Anfrage
(mehr)