Jenny Simanowitz
Keynote Speaker and Entertainer
Jenny Simanowitz combines entertainment with the aim of raising awareness about the unspoken messages which we communicate to each other.
Born in South Africa, she is known and loved in Austria for her extremely motivating style and for the humour, warmth and directness that she brings to all her work.
Because of her training as an actress and her love of the absurd, Jenny Simanowitz builds theatrical and cabaret elements into her "interactive lectures".
Her content deals with perception of ourselves and of others, with conscious and unconscious status-games (often expressed through our body language), with "acceptance and blocking" and with positive and negative interpretations of reality.
Recently she became a founder movement of the Positive Psychology Movement at Warwick University, England and has published a collection of her exercises and games in a book "100 Außergewöhnliche Stimmungsmacher (Ökotopia 2008)
Simanowitz' work has been strongly influenced by the improvisation theatre (Theatresport) of Keith Johnstone, one time director of the Royal Court Theatre in London and by the provocative therapist Frank Farrelly.
Most importantly she has been influenced by having lived and worked intensively in five different countries!
Some Comments:
"I attended your lecture yesterday and I really liked what I heard and saw. It was a very different and unique performance, as you not only made us laugh but THINK about our daily behaviour."
"Your combination of telling the truth without being aggressive and amusing your audience is outstanding and impressed me right from the start."
"It was really great having you as moderator and entertainer at our event. The feedback we have received so far says the same: thanks for your contribution and the outstanding job you did."
Sandoz GmbH
"You made a massive impression on my staff, a very heartfelt reaction on their part."
OSCE, Sarajevo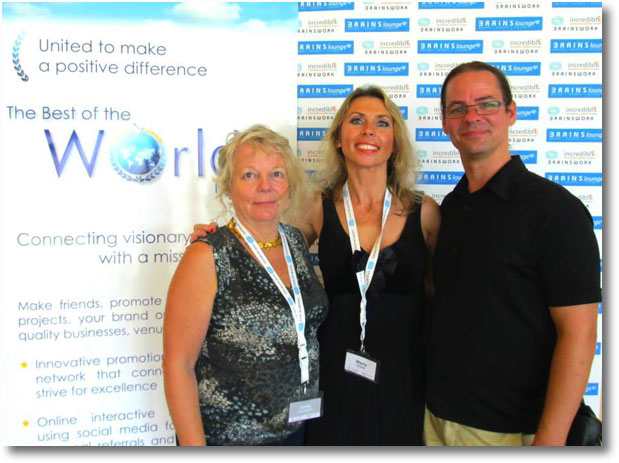 TOPICS:
"Do you want your staff to die young?"
How offensive and unfriendly behavior in the workplace affects our health
Negative behaviour- even micro-behaviors such as body language or subtexts which are often not consciously perceived can have a strong impact on our sense of wellbeing and ultimately on our health.
Impulse lecture with humorous interventions and participation of the participants. (More)
THE POWER OF PERSONAL LEADERSHIP
7 habits for personal leadership is inspired by Jenny Simanowitz' 30 years' experience as communications trainer, performer and consultant.
Well known for her warmth, humour and temperament Jenny Simanowitz has not only a wealth of practical knowledge about how to enhance ones' own personal development and those of others, she knows how to impart this knowledge in a way which inspires people and moves them to action.
Sprinkled with anecdotes, mini-performances and "audience interactions" her lectures have long been a highlight of every event in which she takes part. (More)
ACTIONS WITHOUT NAMES
What goes on under the surface in our daily communication (taken from Communication Cabaret)
These programmes can also be modified to suit particular needs and basically a show can be written to suit any situation which deals with communication. (More)